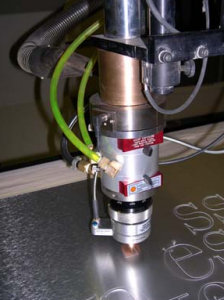 Businesses in need of custom and precision laser cutting service rely on Defiance Integrated Technologies and the Pro Shear Corporation to deliver high quality products and solutions with the finest level of detail and care.
Our precision laser cutting service is provided with fully industry certification, including ISO/TS-16949 and ISO 140001. We utilize a new Mitsubishi 4500 watt laser cutting machine with a 5 foot by 10 foot table and other highly capable machines and equipment.
Perhaps even more important than the equipment and certifications though is the experience and expertise of our engineering team. We will tackle any challenge or special need for custom laser cutting, and we'll manage your project from conception through the entire product life cycle and beyond.
In addition to custom laser cutting, we can complete your project through additional value-added capabilities, including machining, grinding, welding, assembly, and more. You can turn to DIT and PSC to successfully and efficiently complete your laser cutting project.
Contact our team today to request a free quote on our custom laser cutting service, and learn more about how we will be able to meet and exceed your expectations, and produce the precision finished product and total project commitment that you need.